Professional Carpet Cleaning Long Beach
Residents of Long Beach, Lakewood and Seal beach know that clean carpets not only look good, but they can actually make a family feel healthier. Carpets can gather and trap dirt, allergens and other contaminants like mold spores that can cause breathing and other health problems. 
Simply running a vacuum over the floor will certainly make the carpet look better, but a household vacuum can only reach the visible layer of dirt sitting on top of the carpet fibers. Only a quality, professional carpet cleaner with high-end equipment and adequate experience can reach into all layers of the carpeting to clean the ground in dirt and debris.
After a professional carpet cleaning Long Beach services by Mark it Clean, a carpet will look like new again and homeowners will be able to breath a little easier. 
Not only will the dirt be removed, but heated water will be pressurized into the carpet fibers. This will actually kill any bacteria or germs living in the floor. It has been shown that by regularly cleaning allergens from the carpets, people who live in the home are less likely to suffer from asthma attacks or allergy symptoms. This is especially true when there are pets in the home that carry in dirt and shed hair and dander into the carpet.
Do you love the carpets in your house, but are you suffering every time you want to clean them? Cleaning carpets can be tiresome and even dreadful. Nonetheless, you also have the option to hire a professional carpet cleaner like us. But before you do, you should consider the benefits behind your decision. Not all spots can be removed from your carpet with regular methods such as vacuuming. Because every carpet is made of different fiber and each one needs a special treatment, you'll get best results by hiring professionals like ourselves.
Here are four reasons why you choose us for carpet cleaning long beach:
First, a professional carpet cleaner uses industrial strength vacuum power that is able to remove dirt, sand, stains and allergens. This power is so strong in fact, that it will be able to keep your carpets clean for longer and keep the air quality in your house healthier.
But professionals like us are also able to save you time and have a busy schedule. We may even be able to save you money, because you might be spending money on the wrong products to clean your carpets.
If you use cheap products or simply the wrong ones for your carpet, you may actually end up damaging your carpets. We have the right amount of knowledge to analyze what would be the best treatment for your carpets, and we will employ the ideal solution with high quality tools.
Another advantage, is that you do not have to worry about moving furniture. We will do all the heavy lifting for you and you can simply enjoy your clean carpets, that will look like new after we are finished with them. So do not hesitate to contact us to clean your carpets for you!
While cleaning your carpet on a regular basis with a vacuum cleaner is a good way of keeping your living environment clean and your air fresh, it is not the best way of keeping your carpet clean. If you want your carpet to last as long as possible you should invest in professional carpet cleaning in Los Angeles.
Some high end carpets actually specify in their warranty that the carpet will last a certain length of time if it is cleaned professionally at particular intervals. Usually, they recommend that the carpet be cleaned by a professional once every twelve to eighteen months.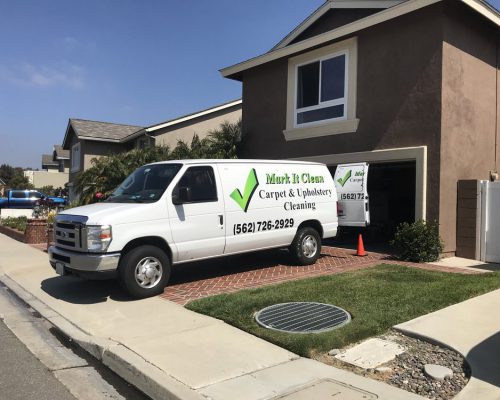 What Our Customers Have to Say
Reasonable price and a lot less hassle compared to renting the machines and doing it yourself. Quality of service is great and the results are expected with the stains removed. Service and personality are exceptional! Even showed up early and was done within 30 minutes. Will be using the service again when I ruin my upholstery.
Reasonable price and a lot less hassle compared to renting the machines and doing it yourself. Quality of service is great and the results are expected with the stains removed. Service and personality are exceptional! Even showed up early and was done within 30 minutes. Will be using the service again when I ruin my upholstery.
Mark it Clean Cleaning & Restoration was great and came on time and cleaned for two hours. My place looks awesome. Thank you!
Carpet Cleaning and Care Tips
If you do not have pets or small children and your house does not get a lot of foot traffic then you may be able to get away cleaning your carpet professionally once every two years. However, if the carpet you want to take care of is in a busy area, or gets exposed to a lot of mud, dirt, pet hair or general household spills then you may want to have your carpets cleaned more often.
In between carpet cleanings, you should make an effort to take care of your carpets by vacuum cleaning them on a regular basis. High traffic areas should be cleaned daily, and other areas should be cleaned once or twice a week. Choose a bagless vacuum cleaner if possible. 
If you cannot use a bag less cleaner be sure to empty or replace the bag on your cleaner when it is half full or two thirds full at most. This will ensure that the vacuum cleaner is always operating at maximum efficiency. Weak suction is not a good thing and could lead to dirt and dust being trapped between fibers, causing long-term damage to the carpet and shortening its life.
Finding the right carpet cleaner to use in your office or home can be intimidating at times. With many people posing as professional carpet cleaners, no one should be trusted. If you have to hire a new carpet cleaner, always ensure they are properly vetted and scrutinized before being offered the contract. If do not have the time for vetting, you can then use commercial carpet cleaners. These professionals have all what is needed for proper carpet cleaning. This ranges from experience, cleaning machines, detergents, and are well trained to handle different kinds of stains on carpets.
You can be assured of a quality service from a commercial carpet cleaner. No matter how much work needs to be done, these professionals have it all covered. They have a highly trained labor force that works hard to ensure all work is well handled, and completed within record time. In addition to this, commercial carpet cleaners invest in highly effective cleaning machines and detergents, all which help make sure the cleaning job is thoroughly done, and that the carpet is well taken care of.
Commercial Carpet Cleaning
Commercial carpet cleaners in Los Angeles have to seek certification from the local authorities before they can start offering their services. This is a great advantage to all consumers because the government probes each company seeking to license. Its qualifications, workforce and experience are put to the test to help ensure the services to be offered meet the minimum requirements. 
This makes it an even easier task for consumers to find the right company to use. All one needs to do is make a request for quotes from different companies, compare them, then hire the most competitive company in terms of rates and additional services offered.
The best thing with using these professionals is that, your carpets will be restored their original look and feel, hence make them last even longer. Cleaning exercises take less than an hour, and the carpets are ready to use within that time.
In a perfect world, you would be able to go throughout your busy day and still have the time to go home and keep your living area incredibly clean. Whether you have a family or you are single, there are different obstacles that can often come between you and the clean house that you wish that you could have. Instead of dealing with the mess or stressing out over cleaning it to the level that you would like, you can look into hiring a great professional cleaning company to come in and do the job for you. All you need to do is make sure that you take the time to weigh all of your options before you hire anyone.
To start off with, you will find that references will be the best way to get an idea about any of the professional cleaning companies that you are considering. If you happen to know someone who uses a particular company, you can talk to them and find out what their experience was.
Schedule an interview with any cleaning company that you are interested in using to make sure that they are going to be a good fit for all of your needs. This is a good time to find out whatever services that the company offers and see if it matches up with your needs. Be sure to get information on pricing during the interview as well so that you will have a decent idea of the money that you will be spending on cleaning services. 
Pet Urine Clean Up in Long Beach
 Along with price estimates and services, you need to be sure that whatever professional cleaning company you go with is insured, bonded and licensed. This will help to eliminate any sort of possibility that you will get hit with costs due to damages that can occur during the cleaning process. With the right planning, you will be able to find a great professional cleaning company that will give your home the level of clean that you desire.
This needs certain preparations to be made for the professional carpet cleaning agency. It can help to clean up the home thoroughly, so that later cleaning will not again soil the already cleaned carpet. Make sure you dust all woodwork, pictures and wall and light fixtures and crown molding where dust seems to gather. Do this well in time so that your home is dust free before the carpet cleaning.
Agencies that undertake carpet cleaning require the carpet to be free of furniture or will need to move it around when they start the cleaning process. If you have a spare room that can take in furniture, see if you can move it there so that the carpet area is clear for work. Make sure that if you have any valuables lying around, they are kept away safely, so that you do not have to worry about them. 
Get your pets out of the way and the children off to play or school while the carpet is being cleaned. This will ensure that you do not have to worry about keeping track of them getting in the way, or being exposed to detergents, steam and other equipment that the cleaners will come with.
If you are clearing items out of a room, remember to make a list of those that you have moved, so that once the cleaning is done, you can then spend the rest of the day or the next day, putting everything back properly in your now spick and span home.
The Benefits Of Having Carpets Professionally Cleaned
Most people think of carpets as a luxury. They look nice and are soft on the feet. The reality is that carpets perform a number of functions.
Carpet insulates the house, adds to the decor scheme and acts as a filter. When people bring dirt and bacteria into the home, the carpet absorbs this dirt.
When the carpet becomes full of dirt, it stops absorbing it and allows it to stay in the air. This is dangerous as it can aggravate health conditions such as asthma and allergies.
For this reason, it is important to keep carpet as clean as possible. Residents can do this by vacuuming every few days and getting their carpets professionally cleaned at least once a year.
Why is Getting Carpets Professionally Cleaned So Important?
Some homeowners think that using professional carpet cleaning services is a waste of money. They would rather invest in a steam cleaner and do the job themselves. This line of thinking is misguided as professionals will do a better job. Listed below are some of the benefits that come with hiring a professional carpet cleaning service.
The workers have access to cleaning machines that do a thorough job. No home steam cleaner is a match for an industrial machine.
Cleaners can use professional high strength cleaning agents which homeowners cannot legally purchase.
The workers are trained to do the job efficiently, effectively and safely.
Getting professional cleans will improve the appearance of the carpet, extend its lifespan and improve the air quality in the home. Homeowners can hire a cleaning service by getting a recommendation from friends or family members. If they cannot do this, they can search for carpet cleaners online. The best service will hire experienced and trained steam cleaners.
Keeping your home clean is a responsibility that is strictly on you, especially if you have children living there. You need to find the time on regular basis to keep the carpets and rugs clean and free from germs and debris. Keeping your carpets and rugs hygienic will not only make things look good esthetically, but it keep your health in tact too.
Instead of cleaning the carpets yourself, why not look to a professional carpet cleaner to take care of the job. If you hire a professional carpet cleaner, he or she will provide a deep clean to your carpets. This deep clean will go deep beneath the surface and clean those hard to reach areas. Whereas if you did it yourself you might only get the surface level. A cleaning service has the tools to get deep beneath the carpet and get the hidden dirt and debris that so many traditional cleaners just don't get.
Another benefit of hiring a professional in Long Beach CA is that he or she will remove the nasty smelling odors that have developed. Nasty smelling odors can develop both on the surface and underneath. These nasty smells come from dirt and debris that just lays there. It lays there because the traditional cleaning equipment isn't picking it up. So instead it grows into mold, mildew and other fungal bacteria. This can be very harmful to you and your children over time.
If you hire a professional they can take care of that problem. They have deodorizers and other solutions that can remove the fungal bacteria underneath. They know which solutions to use and how to use them. If you were to do it yourself you might end up hurting yourself in the long run. So when it comes time to clean the carpet, hire a professional like Mart-It Clean in Long beach, CA.
There are several ways to attempt cleaning the carpets in your apartment. Here are some reasons you should hire a professional carpet cleaning service.
Carpet Cleaning Knowledge and Equipment
Hiring a professional to clean your carpets is a smart decision that ensures professional staff with knowledge of various carpet types, and how to clean them, will do the job. You are also certain the equipment is certified, well maintained and ready to go an excellent job.
Carpets and Rugs Cleaned Completely
The combination of carpet cleaning knowledge, experience, professional equipment and eco-friendly cleaning solutions means your carpets are well cleaned, as much as possible, in a manner that helps reduce, or remove, pollutants and allergens from the environment of your apartment.
Save Your Time and Eliminate Possible Injury from Moving Furniture
The professional carpet cleaning team will, on your request, move your furniture while carpet cleaning is in process, and put it back as you designate. This saves you the work and trouble of doing the moving yourself. Avoiding this task could save you from personal injury too.
Accomplish Cleaning of Carpets without Mold and Mildew Remaining
Improper cleaning of carpets can leave moisture that leads to mold and mildew in your home. Both of these are bad for the health of your family and part of the reason you are cleaning the carpets in the first place.
These are the benefits you will gain if you turn over the job of cleaning the carpets and rugs in your apartment to a professional carpet cleaning service.
Contact us for more information:
Mark it Clean Carpet & Upholstery Cleaning
Address: 520 W Willow St, Long Beach, CA 90806, USA
Phone: +1 562-726-2929
Mark it Clean did an amazing job! Cleaned my floor rugs and staircase, looks like new now! They came shortly after I called, were great to work with and finished in a timely manner. I would definitely use them again!