Area Rug Cleaning Service in Long Beach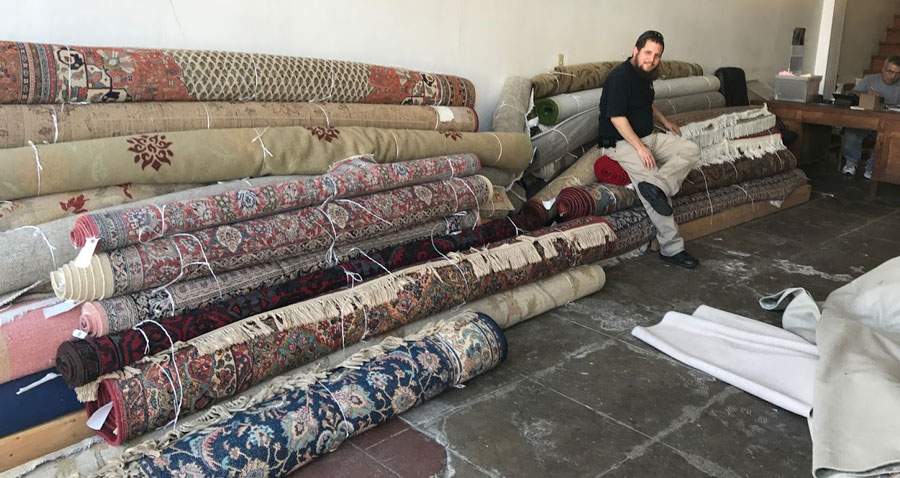 You can tie together similar colors in a room or create a focal point that guests will admire.
Think of your area rug as an investment.
Depending on what fiber your rugs are made from, they can cost well into the high thousands. Wool or natural fibers, which tend to be more costly than nylon or synthetic fibers, are especially delicate and require extra special cleaning techniques to keep the fiber looking newer for longer. Nylon or synthetic fibers can be steam cleaned just like your wall to wall carpets, however, wool and natural fibers must be cleaned using solvent or foaming methods, as per most manufacturer warranties.
You wouldn't void your car's warranty by not servicing it regularly?
So why would you not take the same precautions when it comes to your area rugs?
Most carpet retailers require the same attention to service on a regular basis by a reputable professional or their warranty will be voided.
Protect your investment and keep your stain warranty in tact by maintaining the fibers with regular professional cleanings by a company you trust.
With the proper care, your rugs will bring beauty, style, and comfort for years to come.
A beautiful, warmly colored area rug can transform a dull room into a comfortable, inviting space for your family and guests. Especially when placed on a hardwood or laminate floor, area rugs give a soft place to sit, play games or relax while watching TV.
Most area rugs have ornate designs which work beautifully at camouflaging dirt and stains, but this ability to mask the wear of everyday living can be a detriment to your family's health.
Just because your rug still looks attractive and clean, doesn't mean it really is clean. An area rug, especially in a high traffic area, needs regular cleaning to remain safe for your family.
Everyday we walk in places that are filthy and laden with germs. Even when we remove our shoes when coming indoors, we still carry elements from the outside in with us.
Just as indoor carpeting needs a regular soap and water cleaning, so does your area rug.
Proper maintenance for oriental rugs includes weekly, annual and semi-annual treatments.
Your rug should be vacuumed thoroughly at least once per week, more if it has received heavy traffic or is used by family pets.
It is also recommended that at least once per year, area rugs are treated professionally for dust removal. Even the best household vacuum cleaners will not pull all the embedded dust and dirt from the fibers. Lastly, area rugs should receive deep down cleaning, by a professional every one to three years, to maintain maximum beauty and function.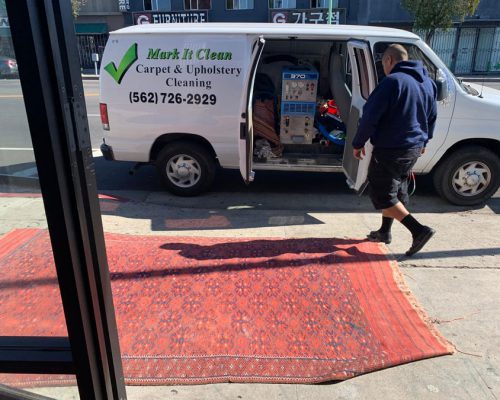 Oriental rugs are an integral part of home decor. Because of this, routine care alone isn't enough to ensure that the rug stays in optimal condition.
Most people "shake out" rugs or sweep them to keep them reasonably clean on a day to day basis, but as people go about their day to day lives, they severely alter the condition of the Oriental rug and leave behind dirt and residue that maintenance cleaning just won't get rid of. As a result, what was once a beautiful Oriental rug becomes an eyesore.
Our Oriental rug cleaning service benefits people by giving them a place to turn when they want their Oriental rug to look brand new.
The thorough nature of our approach to cleaning has been recommended time and time again by experts and, of course, our loyal customers that trust us time and again to clean their rugs.
Phases of cleaning include the initial evaluation of your rug, which determines the cleaning plan, and then soaking, hand washing, and when required, light pressure washing. Many other phases of cleaning go into our approach to cleaning to give you the Oriental rug your home deserves.
We place special emphasis on building long-term relationships with our customers. We're loyal to customers and we find that our customers are loyal to us because they know that we do the best job out of any service they've tried. When you trust us with your Oriental rug, we make sure that nothing but the finest clean is the result.
Book Online
Free Estimate