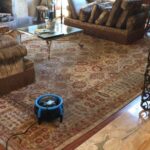 Mark It Clean takes the impact we have on our environment very importantly.
It is important to check to see if the company you are hiring is using safe green non-toxic cleaning agents to make sure it not only protects our environment but that it also keeps your family and pets healthy and safe. Mark it Clean technicians use efficient cleaning technologies and safe cleaning agents in order to reduce any negative impact on our environment.  Our clients are our priority and that is why we have researched and picked the best non-toxic cleaning agents that keep you safe but also get the job done!  Mark It Clean strives to keep their customers happy and we want to be your #1 choice all the time.
How Often Should I clean a Rug?


These are some easy things to think about when deciding.
*What kind of foot traffic is my rug seeing?
*What kind of spills or stains has my area rug seen lately?
*What king of area rug is it?  Different rugs need to be cleaned more or less routinely.


Mark It Clean is committed to being a green area rug cleaning company.
 Mark It Clean has energy efficient machines, vehicles and recycles on the job site.  We want to protect you and our technicians.  Call Mark It Clean in Lakewood, CA for a free estimate and to talk further about our non-toxic cleaning agents and the process we use.  Call Now at 562-726-2929
We have picked the best equipment and non-toxic cleaners that are effective at getting out tough stains and awful odor.  Green Cleaning Agents are the best way to clean your home and protect your family from toxins.
Certified and Insured companies like Mark It Clean are the best to work with because you know they mean business and they are not one of those fly by the night companies that really do not know what they are doing.  You want technicians like ours that are experienced in knowing the rug's dyes, fibers, and origin so they use the right cleaning methods.
Rugs with natural fibers only need to be cleaned when it is extremely necessary so it is important to have a company like Mark It Clean that can help inform and educate you on how often your area rug needs to be cleaned.
Mark It Clean is a local favorite in Long Beach, CA and we ensure that our natural cleaning products meet all green cleaning standards and are non-toxic and safe for the entire family including pets.
Our cleaning solutions are biodegradable and organic.
Indoor air quality changes throughout the year.  Certain season will make your allergies flair up or if there is a fire in the surrounding are we may have a lot of smoke in the air that effect our lungs.
Mark It Clean is proud we can offer an organic natural method of cleaning to help support Long Beach, CA.
We thrive on doing the job to industry standards and meeting all of our customers' expectations.  We guarantee 100% customer satisfaction and guarantee our technicians will do the job right.
We do have different cleaning methods depending on the rug and what it is made of.
Identifying what the rug is made of is important before cleaning agents are applied.  Mark It Clean technicians will be able to choose the best area rug cleaning method for your homes rugs.
Give Long Beach's favorite green company Mark It Clean a Call!  We can work around your busy schedule to get an appointment scheduled.  Call Now at 562-726-2929
We are your #1 choice in green cleaning!  Feel free to let our technicians know of any extra stains or spills your area rug may have had due to a spill or new pet.  We can focus on those areas on the area rug with pre-treatment cleaning agents to get them out and protect you from an awful odor.
The average cost to professionally clean an area rug ranges between $50 and $350. It depends on the cleaning method and type of material. We may need to do extra treatments or stain removal and that can cost more money.
Give Mark It Clean a call today for a free estimate!  562-726-2929. We are also taking extra precautions due to COVID-19.  We are taking our technicians temperatures when they arrive to work and monitoring their health.  We are also requiring them to wear gloves and face masks to protect them as well as you.